YOU DO NOT WANT TO MISS OUT...
Sign up to receive the truth on what's going on in this county.
People up and down the state of Nevada ask me if their vote counted.
They all have similar stories. They all voted in person, brought in their ballot to the Registrar of Voters (ROV) or polling location, and handed it to a poll worker, yet the Secretary of State's (SOS) website shows it was mailed, not voted!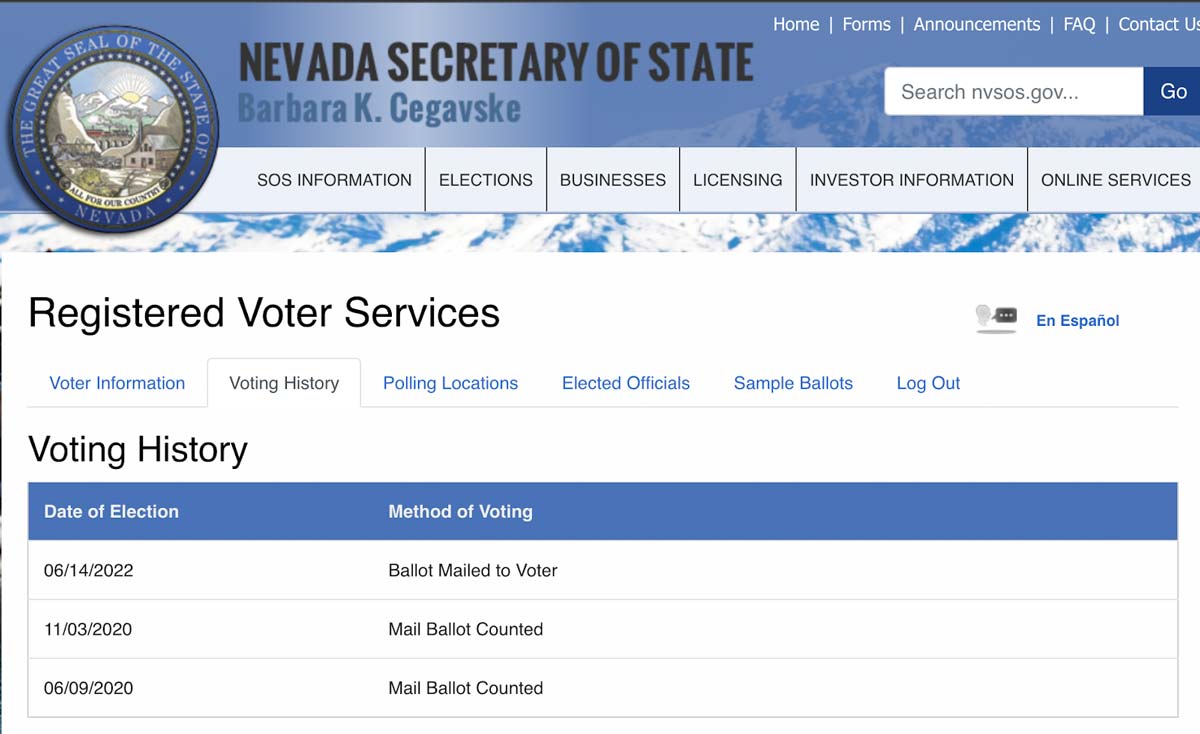 This is what it shows for me. I personally played mule on 6/14/22 and brought my, my wife's, and son's ballot directly to the Washoe ROV. I had them scan the envelope to ensure we hadn't already been marked down as voted and then personally handed it to the worker.
It shows a ballot was mailed to me. Not that I-we voted. WTF?
We are still awaiting an official response as to what's going on.
What we do know is that we documented the entire election process. We know there is simply no way to legally certify this election in Washoe and in Clark, yet they did.
Read some of our findings here.
So what's going on? Well, we know they litter the state with ballots. We know people can gather them up, fill them out, and then mail them in or drop them off.
We know there was no meaningful signature verification at all in so many cases witnessed by our observers.
We know that 44,000 people, at least, were not able to vote in the primaries for partisan races due to the DMV and SOS.
We know that hoards of voters that voted are being shown they didn't.
We know that in our exit poll calls to voters, who supposedly voted, many did not.
So what could this mean?
It could very well mean that the state kept 44,000 people from voting how they intended to—that tens of thousands or more ballots could be filled out by a single group of nefarious actors and with no signature verification could be counted.
We know many who say they didn't vote, show they did, and many who did, the SOS says they didn't!
In a nutshell, it appears they are injecting real ballots, just not from real registered voters.
It appears someone or a group is dumping real voters' votes.
We have 6 weeks of elections now, not one day; that is a ton of time to totally rig the entire election system.
We saw the Washoe ROV process what appears to be 38,000 ballots in one day, yet they need 6 weeks to process the election of less than 100,000 total votes?
This election simply can't be trusted.
We must strengthen AB321 with ID at a minimum, at best abolish it, leaving just indefinitely confined and military to vote via absentee ballot like most countries.
We must get rid of the machines; we have so many reasons now from Georgia, Colorado, and CISA that show they can't be trusted.
If we want to get our country back, we must make sure our elections are legitimate, or all is lost.
Look for recounts and contests, do not stand idly by.
Get involved now, before it's too late.
Beadles
P.S.
Did you see someone rig the election? Know someone who has? $25,000 to you if we use your evidence!
Contact:
RobertBeadles@protonmail.com
DISCLAIMER:
These thoughts, statements, and opinions are my own, not of any club, committee, organization, etc.
YOU DO NOT WANT TO MISS OUT...
Sign up to receive the truth on what's going on in this county.